Unique Structuring Agent: Silsoft EAU Microgel
Today, personal care trends are rapidly changing and developing. This rapid transformation in the industry is leading formulators to use multifunctional, high-performance, and innovative products rather than traditional ones. The core-shell technology of Silsoft* EAU Microgel, developed by Momentive Performance Materials delivers a wide range of creative textural effects and a refreshingly distinctive light-weight sensation to the skin, even in body butter and high oil-based products.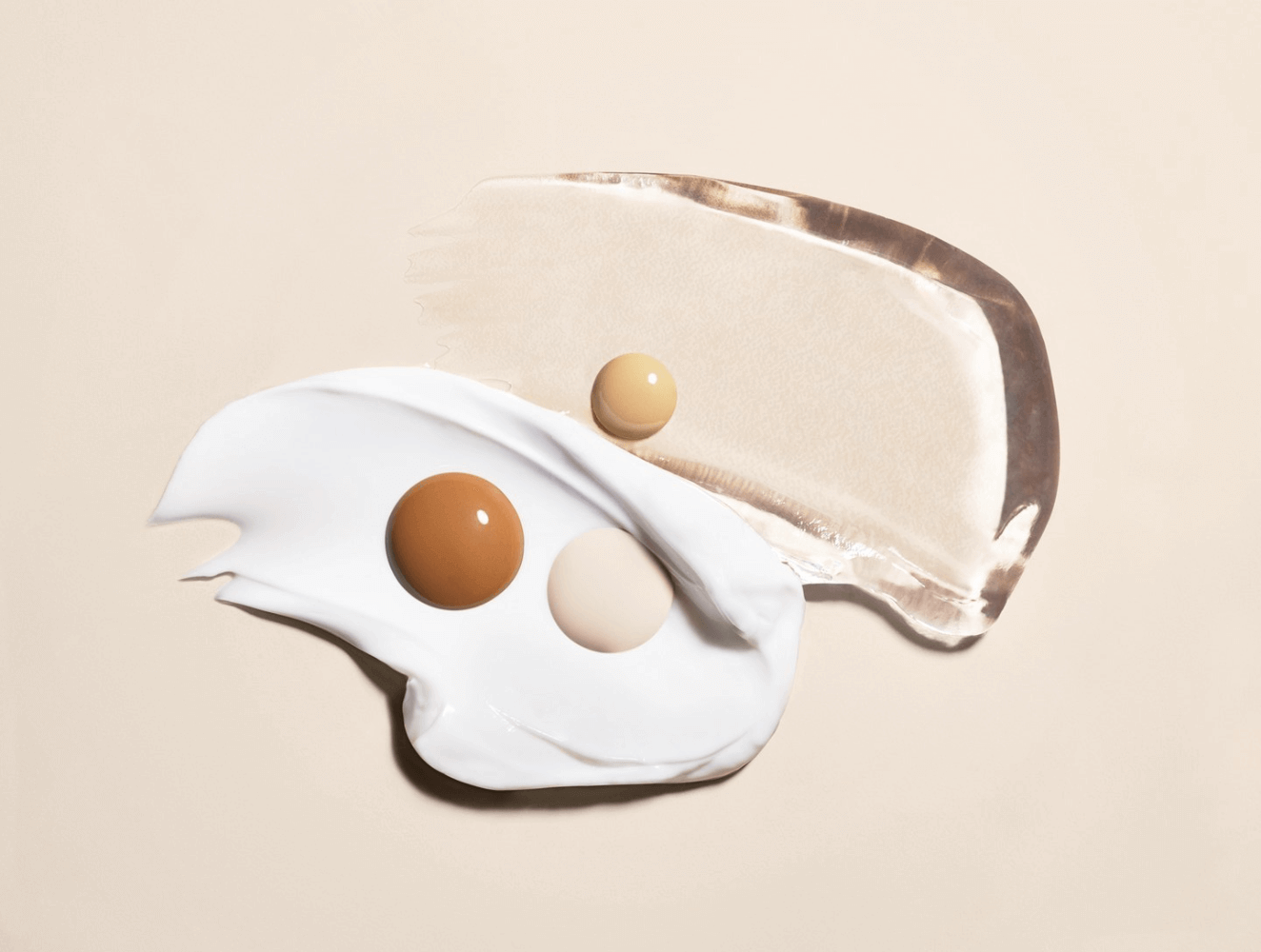 This innovative microgel's polyacrylic core's ability to swell with water in combination with its cationic silicone polymer shell's interaction with oils allow it to create a multitude of desirable product effects via the manipulation of pH and concentration levels. The flexibility of the Silsoft EAU microgel helps to enrich skin care formulas to accentuate one's unique beauty and delight the senses with a quick-break, water-like, refreshing skin feel.
Silsoft EAU microgel was named a finalist in 2019's Best Color Cosmetics Ingredient by Cosmetics Design's Global Beauty Industry Awards with its innovative content and key features.
Key Features and Typical Benefits
Wide range of distinctive textural effects
Excellent formula flexibility and compatibility
Low viscosity emulsifying properties
Pigment dispersion and stabilization
Quick-break application with a cooling, quick drying feel
High shear thinning: easy spreading and pump properties
Unique, lightweight feel even with high oil content
Lighter and easier to spread in sunscreen products
Typical Physical Properties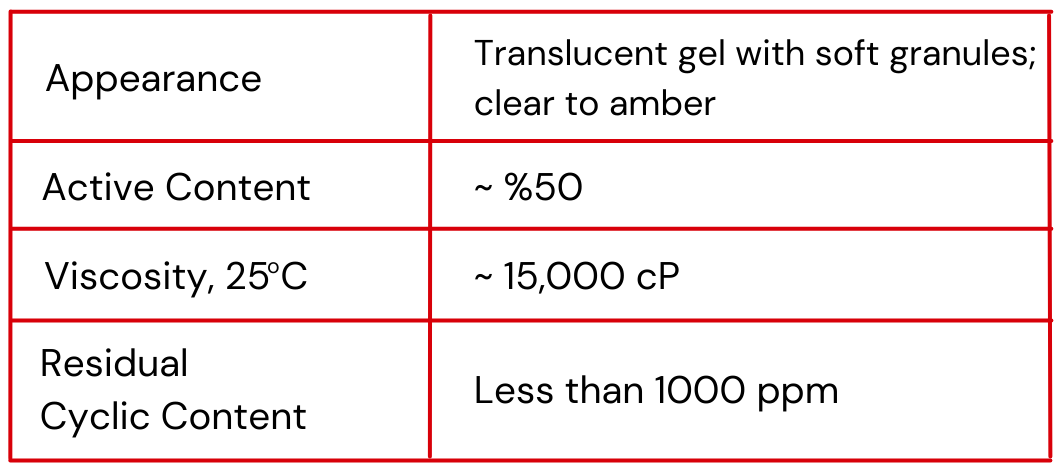 Chemistry and Swelling Behavior
Schematic Representation of Silsoft EAU Microgel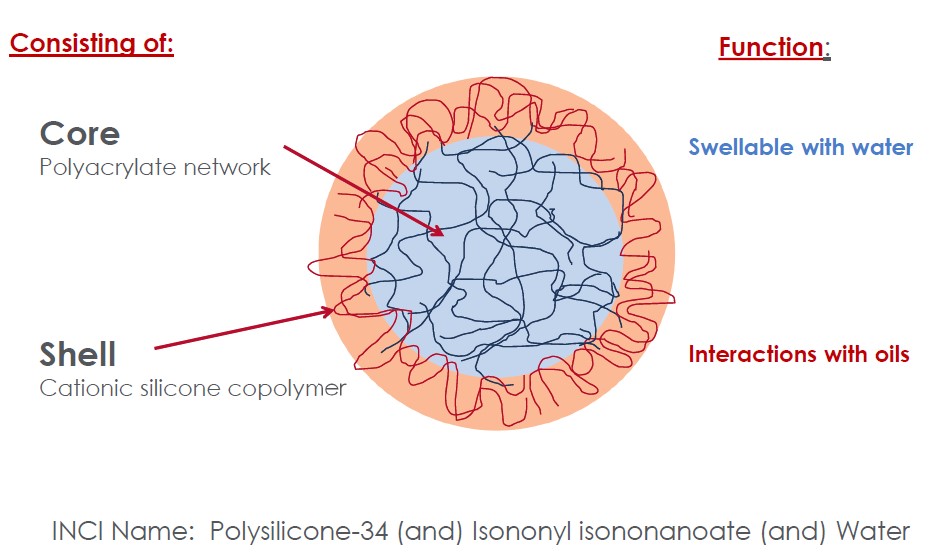 How Silsoft* EAU Microgel Works?
At Neutral pH ~ 6.5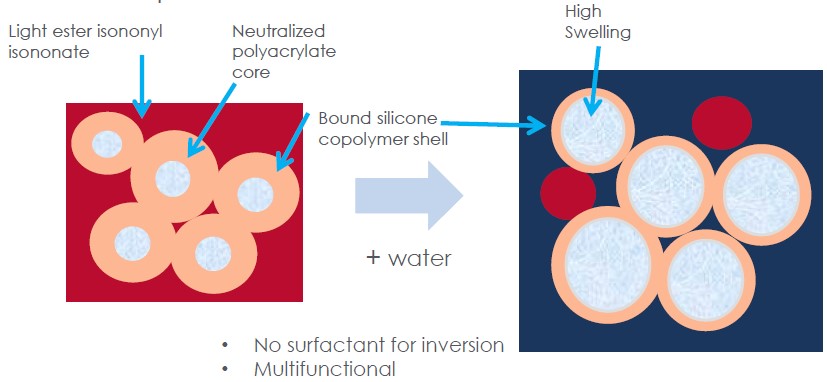 Silsoft* EAU microgel has a natural pH of around 6.5. Upon addition of water, the polyacrylate core is negatively charged and swells. The swelling increases the microgel particle size. The space-filling effect of the swollen particles leads to the formation of a cohesive network, forming a gel that stabilizes the oil droplets.
pH Effect and Amphoteric Character
Silsoft EAU microgel's responsiveness to pH and concentration enable a wide range of texture and sensory effects, all with a unique, lightweight water-fresh feel. The microgel's silicone shell can greatly reduce tackiness, even in the presence of heavy ingredients such as glycerin or highly viscous oils (petrolatum, natural butters, etc.).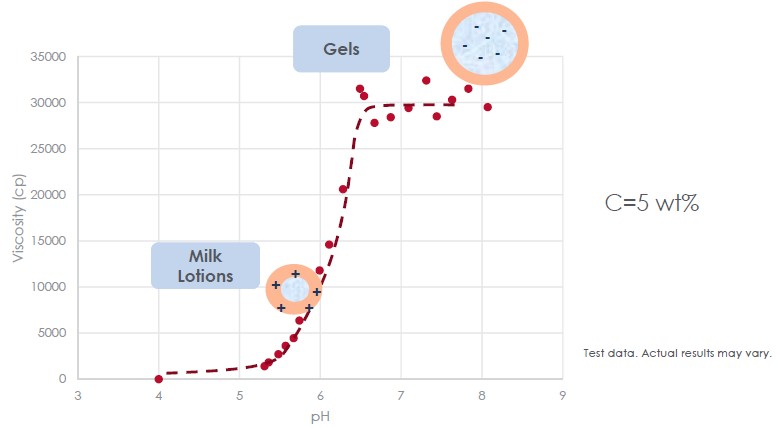 pH ~ 6. 5 and above

With an anionic charge of the polyacrylate core and a reduced charge of the silicone-rich shell
High swelling of polyacrylate core
High viscosity gels
At pH < 6.5
With a reduced charge of the polyacrylate core and a cationic charge of the silicone-rich shell
Swelling of shell with oils
High emulsifying power
Low viscosity milk and lotions
Texture ranges from light milky fluids, to bouncy powders!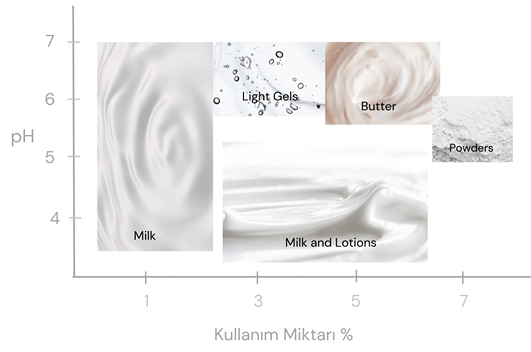 Emulsification
Silsoft EAU microgel's distinctive core-shell structure makes it a highly effective oil-in-water emulsifier. When compared to a polyacrylate microgel benchmark, the dispersing capability is evident when viewed at the microscopic level.
Silsoft EAU microgel can be used as a stand-alone emulsifier or as a co-emulsifier. As a co-emulsifier, the Silsoft EAU microgel helps improve sensorial characteristics of traditional emulsifiers by reducing tackiness, delivering better spreadability, and enhancing pigments dispersion.
let's create new possibilities
together